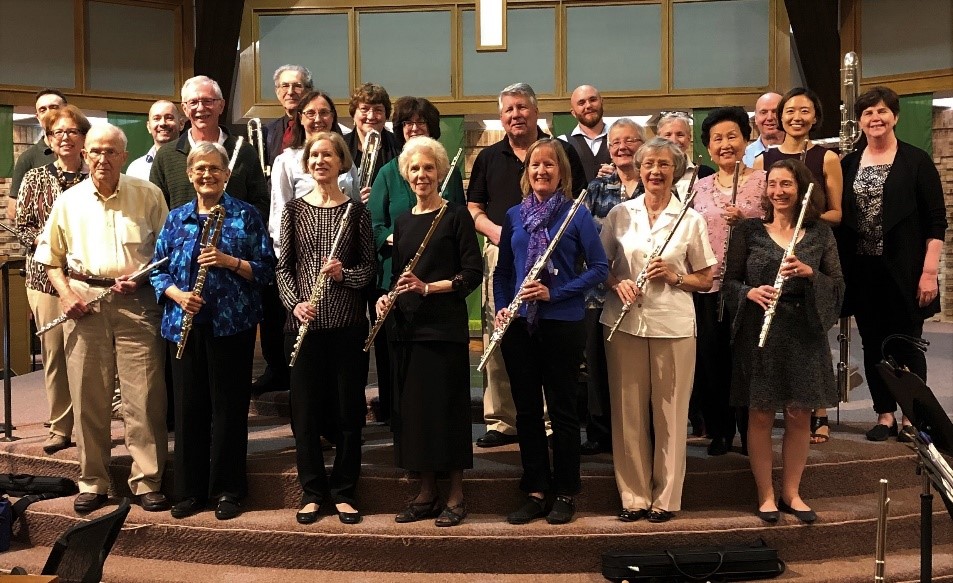 14th Annual After-Work Summer Flute Camp
A Music Camp for the Busy Adult Amateur Flutist
Online for 2020!
August 17-21, 2020
7:00-9:30 PM
Pre-registration Fee
$155

Particpant registration is closed
The After Work Adult Flute Camp is full, but auditors are welcome for the online lecture portion of the camp. Flute Society membership is required. Lectures held from 7:15 - 8:00 pm, during the camp week, August 17-21, 2020.  Auditor fee: $25.00.
Daily Topics:
Monday - Debbie Gilbert - Tips for practicing smarter
Tuesday - Keith Hanlon, The Flute Authority - Tips for caring and maintaining our flutes
Wednesday - Aaron Goldman, National Symphony Orchestra - Tips for being a good ensemble player
Thursday -  David Lonkevich - Tips for playing in tune
Friday - Debbie Gilbert - Tips for participating in a virtual video collaboration
Missing your flute choir or playing with other flutists?
Due to the Covid-19 pandemic, the After-Work Adult Flute Camp will be held online this year from the comfort and safety of your home, with no commuting!
The Adult Summer Camp was designed by the Flute Society of Washington to give the busy adult amateur flutist a summer camp in the evening. This year we will utilize the Zoom online platform to connect. Download Zoom for your device at https://zoom.us/download. Zoom can also been found in the  Apple App store or on Google Play. You should download Zoom on a device that has a camera and microphone, and which you can comfortably view while playing. Most smartphones, tablets and laptops already have a camera and microphone built in. If not, you can find an inexpensive webcam with a microphone online or at a local store. If you have questions about using Zoom, please contact Debbie Gilbert. More instructions will be sent out to all registrants. .
We offer two tracks: one for the adult flutist who has been playing 2 years or less and another track for the intermediate/advanced flutist. Each group will work on one or two flute choir pieces. At the end of the camp, each student will submit a video recording playing their part, which will be combined to create our online flute choir! The performance will be posted on the FSW Facebook page. In addition, we will have sessions on flute care and maintenance, tone development, playing in tune, and tips for getting faster fingers. We'll also talk about numerous ways to collaborate online with other musicians. Alto, bass and contrabass flutes are always welcome, along with C flutes and piccolos.
As part of your tuition, you may take a 30-minute lesson via Zoom with either David Lonkevich or Debbie Gilbert. Lessons are held prior to the start of each evening's class, either 5:30 PM or 6:00 PM or at a mutually agreeable time. Contact Debbie Gilbert to schedule your time and teacher or request a time and teacher on your registration.
We are pleased to announce that two special guests will be presenting sessions during the Adult Flute Camp.  Aaron Goldman, principal flutist with the National Symphony Orchestra, will be giving us tips for being a good ensemble player and Keith Hanlon, flute technician from the Flute Authority, will be giving us tips for caring and maintaining our flutes.
This year's camp coaches are two exceptional artists:
Debbie Gilbert is the artistic director of the Woodbridge Flute Choir and principal flutist with the Piedmont Symphony Orchestra. She has taught private lessons to youth and adults for over 30 years and is an eleven-time winner in the National Flute Association (NFA) Professional Flute Choir Competition and conducted the 2015 NFA High School Flute Choir. Debbie studied with Max Schoenfeld, Jeanne Timm, Thomas Perazzoli, Toshiko Kohno and Tadeu Coelho.
David Lonkevich received his Bachelor's Degree in Music and was a member of the premiere class of the Masters in Orchestral Studies program at the Manhattan School of Music. His teachers include Baxtresser, Baker, Parloff and David Cramer. He teaches at the Washington Conservatory of Music and at his private studio and is also a frequent clinician and ensemble coach throughout the region. He is principal flute of the Wolf Trap Opera Orchestra and has also performed frequently with the National Symphony, the Kennedy Center Opera House Orchestra and the Baltimore, Mid-Atlantic and Alexandria Symphonies. He is also a member of the Third Millennium Ensemble and performs solo and chamber music frequently.