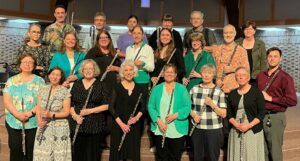 17th Annual Adult After Work Summer Flute Camp
A Music Camp for the Busy Adult Amateur Flutist
August 21 - 25, 2023
7:00 - 9:30 PM
Camp Location:
Messiah United Methodist Church
6215 Rolling RD.
West Springfield, VA 22152
We offer two tracks
The first track is for the adult flutist who has been playing 2 years or less or prefers a beginner group and a second track for the intermediate/advanced flutist. Each group will work on several flute choir pieces. Each session students will work on flute choir music and give a final performance on Friday, August 25 at 8:00PM. In addition to C flutes and piccolos, alto, bass and contrabass flutes are welcome.
As part of your tuition as a participant, you may take a 30-minute lesson with a camp coach prior to the start of one of our class sessions, 6:00 or 6:30 PM or at a mutually agreeable time.
The camp will feature two exceptional artists as coaches: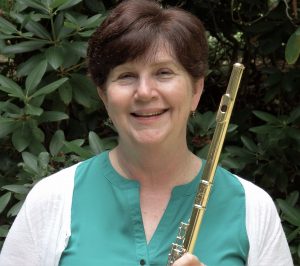 Debbie Gilbert is the artistic director of the Woodbridge Flute Choir and principal flutist with the Piedmont Symphony Orchestra. She has taught private lessons to youth and adults for over 30 years and is an eleven-time winner in the National Flute Association (NFA) Professional Flute Choir Competition. She conducted the 2019 FSW Mid-Atlantic High School Flute Choir and the 2015 NFA High School Flute Choir. Debbie studied with Max Schoenfeld, Jeanne Timm, Thomas Perazzoli, Toshiko Kohno and Tadeu Coelho.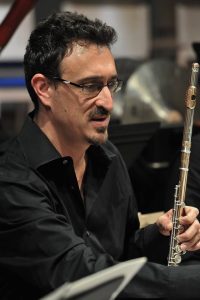 David Lonkevich received his Bachelor's Degree in Music and was a member of the premiere class of the Masters in Orchestral Studies program at the Manhattan School of Music. His teachers include Baxtresser, Baker, Parloff and David Cramer. He teaches at the Washington Conservatory of Music and at his private studio and is also a frequent clinician and ensemble coach throughout the region. He is principal flute of the Wolf Trap Opera Orchestra and has also performed frequently with the National Symphony, the Kennedy Center Opera House Orchestra and the Baltimore, Mid-Atlantic and Alexandria Symphonies. He is also a member of the Third Millennium Ensemble and performs solo and chamber music frequently.